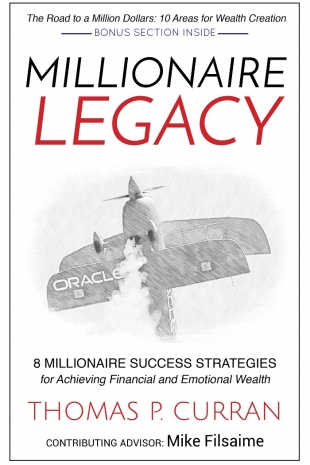 Millionaire Legacy
8 Millionaire Success Strategies
for Achieving Financial and Emotional Wealth
by Author Thomas P. Curran

"If you want to accelerate your progress forward, you definitely need to read this book and incorporate the eight millionaire success strategies into your life. This book gives you the opportunity of learning directly from Brendon Burchard, Bob Proctor, Mark Victor Hansen, James Malinchak, Sean D. Tucker, Steve Harrison, Russell Brunson, and Mike Filsaime. These highly respected experts share their proven blueprint for reaching ultimate victory."


– Rick Frishman
Best Selling Author, Publisher and Speaker
www.rickfrishman.com






Author, Speaker, Consultant, Coach, and Mentor

Featured in the blockbuster hit, The Secret, Bob Proctor is widely regarded as one of the living masters and teachers of The Law of Attraction and has worked in the area of mind potential for over 40 years. He is the best-selling author of You Were Born Rich, and has transformed the lives of millions through his books, seminars, courses, and personal coaching.
Author, Motivational Speaker, and High Performance Trainer
Brendon Burchard is a #1 New York Times bestselling author. After surviving a car accident at the age of 19, Brendon received what he calls "life's golden ticket," a second chance. Inspired by his discovery that at the end of our lives we will ask, "Did I live? Did I love? Did I matter?" he turned his life around and quickly became a multimillionaire and legendary force in the motivational genre. He is one of the Top 100 Most Followed Public Figures on Facebook.
Business and Motivational Speaker, Marketing Coach and Speaker Coach
Malinchak is one of the most requested highest paid motivational and business speakers and business marketing coaches in America. Malinchak conducts live public seminars attended by new and beginning entrepreneurs, celebrities, actors, professional athletes, professional speakers, and trainers. Malinchak is also called America's #1 speaker coach for anyone wanting to get started as a motivational speaker and start a personal achievement and corporate training company.
Internet Marketing Training
Russell Brunson started his online business when he was a student and wrestler at Boise State University. With $20 and a simple idea, he sold more than a million dollars of his own products and services within a year of graduating. Russell's company, DotComSecrets.com, grew rapidly from a small one-man shop in his basement to a major online business with over 60 employees and more than $10 million in annual sales.
Aerobatic Pilot and Chairman of EAA Young Eagles Program
Sean has been flying airshows worldwide since the mid-70's and has won numerous aerobatic competitions. In that time, he has flown more than 1,225 performances at nearly 500 airshows in front of more than 125 million fans. He practices his airshow routine three times every day. Named as one of the Living Legends of Flight, Sean is a member of an elite group of aviators and astronauts that includes General Jimmy Doolittle, General "Chuck" Yeager, and John Glenn.
Publisher of Radio-TV Interview Report and Host of the National Publicity Summit
Steve Harrison's company helps authors, experts, and entrepreneurs refine, promote, and monetize their message. His company has helped launch such bestselling books as Chicken Soup for the Soul, Rich Dad Poor Dad, and Men Are From Mars, Women Are From Venus. He is also the co-creator of the Best Seller Blueprint with Jack Canfield.
Co-Author of Chicken Soup for the Soul, Keynote Speaker, and Marketing Expert
Mark Victor Hansen is probably best known as the co-author for the Chicken Soup for the Soul book series and brand, setting world records in book sales, with over 500 million books sold. Mark also worked his way into a worldwide spotlight as a sought-after keynote speaker, and entrepreneurial marketing maven, creating a stream of successful people who have created massive success for themselves through Mark's unique teachings and wisdom.
Internet Marketing Expert, Speaker, and Consultant

Mike Filsaime was the General Manager of one of the nation's largest auto dealers and he spent 14 years in the auto industry. In 2004, it was time for Mike to leave the automobile sales profession behind and seek out new opportunities that lie ahead with the new frontier of Online Marketing. He decided to work for himself and became a millionaire in just 3 years. In January of 2006, he did his first million dollar product launch.

Captain Chesley B. "Sully"
Sullenberger, III
Aerobatic Pilot and Retired Northwest Airlines Captain

Julie Clark is a pilot for more than 42 years and a retired Northwest Airlines Captain. She has logged more than 32,000 accident-free hours and she is also a highly respected aerobatic pilot within the aviation community. Julie Clark's air show routine takes her restored T-34, "Free Spirit," to the limits of its operating capability. In March of 2002, Julie received perhaps her highest honor with induction into the Women in Aviation Pioneer Hall of Fame of Women in Aviation, International.
Actress and Unofficial Ambassador for the movie, "It's a Wonderful Life"

Karolyn is the actress who played ZuZu Bailey in the movie, "It's a Wonderful Life" with Jimmy Stewart. At the tender age of 4, Karolyn Grimes began memorizing lines and acting in the fantasy world of cinema. She worked with film legends John Wayne, Cary Grant, Bing Crosby, Loretta Young, Fred MacMurray, Betty Grable, and Danny Kaye. Her Hollywood career ended in her teens when her mother died from early-onset Alzheimer's disease and her father was killed in an automobile accident. She eventually married but that marriage ended in divorce.
Author, Speaker, Consultant, and Retired US Airways Captain

Chesley B. "Sully" Sullenberger, III is best known for serving as Captain during what has been dubbed the "Miracle on the Hudson." After logging more than 20,000 hours of flight time, Sullenberger became internationally renowned on January 15, 2009 when he and his crew safely guided US Airways Flight 1549 to an emergency water landing in New York City's frigid Hudson River. The Airbus A320's two engines had lost thrust following a bird strike.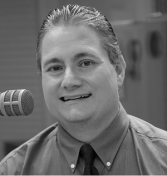 Thomas P. Curran graduated with a Bachelor of Arts degree in psychology from DePaul University in Chicago, Illinois.
Thomas is a Business and Life Coach who is able to assist his clients in reaching their dreams and goals with an easy-to-follow plan. He worked in radio as an on-air personality, executive producer, and talk show host.
As a speaker and seminar leader, his skill in helping individuals develop a clearly defined plan for success, experience a positive emotional awakening, and prioritize their goals, dreams, and aspirations has distinguished him as the foremost expert within the area. His presentations are energetic and motivating.
To learn more about Thomas, please visit: www.thomaspcurran.com
© Millionaire Legacy | All Rights Reserved.